"Assisted Living Programs offer a wide variety of services and pricing, no two of which are identical."
Prospects will often call me and open the conversation by saying something like, "My mother needs some assistance." A statement such as this one can mean anything. Assisted living actually means the next level of care that is necessary when the senior is no longer completely independent. Specifically, he/she needs some help with activities of daily living: eating, bathing, dressing, walking, transferring, and toileting. This is not hands-on care. It is stand-by assistance. For instance, the aide will not give a loved one a full bath or shower. The aide will stand by and watch the senior take their shower. The aide will hand the senior the soap and towel. The assistant will not scrub the person down. People have a lot of misconceptions as to what "assisted" really means.
According to the Assisted Living and Shared Housing Establishment Code in Illinois, the personnel requirements to qualify for assisted living are:
There must be someone age 18 on the premises for 24 hours
Be able to address the emergency and non-emergency needs of the residents
Be trained in CPR
Note that it doesn't say that a nurse must be on duty for a certain number of hours, or that each aide needs to be a Certified Nurse Assistant (CNA). It doesn't mean a nurse will be passing the medications. My point is this: Assisted living communities are offering such a wide variety of services that you need to be wary when you're shopping for an option. It will involve close scrutiny as to the level of assistance your loved one will receive.
Likewise, the pricing will be very different from community to community. Some homes will charge one package price for help with activities of daily living (ADLs). Others will charge a fee for general room and board, then charge additional premiums (a la carte) for help with specific activities. For instance, one community may charge $15 for 15 minutes of bathing assistance. Then, there will be an additional $15 charge for dressing assistance. There are times when I've actually seen the a la carte pricing exceed the package pricing!
I've also encountered communities that are only prepared to deal with low maintenance residents. Once a resident develops a certain problem, he or she is asked to either move to the skilled area of the community if one is available or move to another home. Incontinence and wandering are examples of such problems. Some communities have counteracted the incontinence issue by charging a large add-on fee for help with these issues. Unless a community has a locked or secured area for residents who tend to wander, the family may be facing a move with their loved one.
Last, you need to carefully analyze the activity schedules that are offered. Many of the communities don't offer the appropriate programming or activities that are necessary for different stages of Alzheimer's, as exemplified in the following real life story.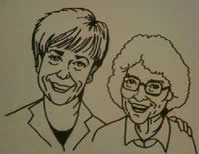 Real-Life Story
My client had travelled to Florida to bring her parents back to Chicago to live. On the way home, my client's elderly father suffered a heart-attack in the car and died in a hospital in Tennessee. To make matters worse, this happened over the Thanksgiving holiday.
My client's mother has mid-stage Alzheimer's disease. My client had no idea how much her father had been doing for her mother until she moved her in with her family. After a while, the tension started to mount. My client's mother would often ask to be sent back to Florida or ask to move to a retirement community. At her mom's request, they looked at one community and liked it. But they wanted a second opinion and hired me.
Upon visiting with my client and her mom, I realized that the community they visited would be inappropriate for her in the long-run. It didn't offer any activities that were geared toward mid-stage Alzheimer's disease. The choice was either to attend the activities for the regular assisted living residents or participate in the activities offered in the locked unit where she eventually might have to move. There was nothing offered for those residents who fell in between those two categories. I was able to place her in an assisted living community that offered a structured program geared toward mid-stage Alzheimer's. The program is much like adult day care with mind-stimulating activities. These are conducted under the guidance of a team leader. But, unless you have thoroughly investigated the available programs, the average consumer would never be aware of their existence. If my client's mother needed to move to the facility's more secure, higher level of care section, there would be no change in price. I was also able to negotiate a two-year rate guarantee.