"True or False: Medicaid does not pay for assisted living?"
When I deliver the assisted living segment of my group presentations, the audience is often unaware that Medicaid offers a program that pays for assisted living. It is called the Supportive Living Program. Assisted living is the next highest level of care above independent living where the senior needs some help with his or her activities of daily living: bathing, dressing, walking, eating, transferring, and toileting. It is stand-by assistance not hands-on assistance. If a senior is paying privately for assisted living, the costs can range from approximately $3,800 to $6,000 a month. The Supportive Living Program is a wonderful alternative for low-income seniors who cannot pay privately for the assisted living level of care and are not yet ready for nursing home placement.
Here are the requirements for admission to supportive living:
The senior must be at least 65 years old.
He or she must submit to a determination of need screening for nursing home care.
The prospective resident cannot have a primary or secondary diagnosis of mental illness. (This qualification is taken on a case-by-case basis. Many seniors are taking anti-depressants.)
The senior needs to have a TB test that is negative.
The prospect needs to receive at least $674 monthly in Social Security Income (SSI) if they are single and $1,011 if they are a couple. The resident is allowed to keep $90 per month for personal expenses, and the rest is applied toward his or her care.
Upon admission to a supportive living community, a senior would receive help with his or her activities of daily living as listed above. He or she would also receive meals, 24-hour security, assistance with laundry, housekeeping, maintenance, and medication oversight.
There are more than 100 operational Supportive Living Facilities (SLF) in Illinois. Even though these communities have received publicity in the media, people don't know the option exists. As with any other senior living community, the quality of care that is delivered will vary from home to home.
The Supportive Living Program is not appropriate for seniors who have more advanced stages of Alzheimer's because the appropriate programming is unavailable at these communities. However, supportive living was a perfect option for my client as exemplified in the following real life story.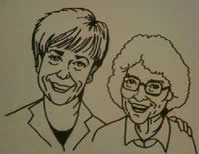 Real-Life Story
My client is 85 years old and a former resident at an independent living community that fits his very limited budget. He is ambulatory with a cane, but uses a scooter when he becomes tired. He takes medication for depression. He is fortunate to have a very devoted nephew, who religiously visits him several times a week and takes him fishing (weather permitting). This nephew noticed that his uncle's physical appearance was deteriorating, and he wasn't keeping himself or his apartment clean. His personality, which was normally pleasant and gracious, was becoming cantankerous.
One evening during a bingo game at the independent home, my client was involved in a disagreement with another resident. An argument developed, and they began to threaten each other with their canes. The police were called, and my client was issued a ticket for disorderly conduct. He was also given a letter of dismissal from the management.
His nephew didn't know what to do. He and his wife both work and didn't have the time to research and find an appropriate community. He informed me about his uncle's declining physical appearance and the disorderly conduct incident. I told the nephew that it sounded like his uncle just needed some help with taking his medications, bathing, and dressing. I was able to find three supportive living communities within reasonable distance of the nephew's home. I arranged for a determination of needs screening through the appropriate senior agency, which is a requirement for support through the Medicaid program. The family chose a home that was within five miles of the nephew's home. When I checked back with the nephew to see how things were going, he told me, "He's very happy, the care and staff at the home are great. Your services were worth every penny!"