"Delaying a loved one's move to a long term care community might not be a good decision in the long run."
The decision to move a senior to an assisted living community or nursing home can be an unpleasant experience. Because our parents took care of us, it is a decision laden with guilt. Children often enter a state of denial with thinking the parent is "doing just fine." Reality may be the opposite situation. Deferring the decision seems to be a good short-term decision; but, in actuality, it may be placing the loved one's health and finances in jeopardy. It never hurts to do some thinking or pre-planning about what may happen down the road.
While I'm not an advocate of moving a senior before they are ready, let me share some experiences that I've encountered with my clients:
My client's loved one was residing at a lovely independent living community and had a full-time caregiver. The medical conditions were such that "hands on"care was required for bathing, dressing, transferring, and toileting. The rent plus the caregiver was in excess of $8,000 per month. Since the person's funds and health were declining, I was hired by the kids to make some recommendations for a nursing home. The nursing home would have to accept public aid once the funds were exhausted. I identified three top-notch nursing homes that would allow a resident to remain if she or he could pay privately for two years. At the time, this client fit those qualifications. The children toured the communities but didn't act upon my advice for over a year. They weren't looking for the relative to leave them a legacy, and they wanted the person to be happy. Now they are in a rush to find another nursing home. Since the financial situation changed, the options were not as plentiful. I had to suggest alternatives that weren't as good as the first set of options.
My client's ailing relative was living at home. The spouse and children were acting as the caregivers. The senior was already receiving public aid for prescriptions. The condition had caused the senior to become bedridden. The senior was also suffering from Alzheimer's disease. The family's religious and ethnic background didn't condone moving the relative to a nursing home. But, they no longer could administer to the person's needs. The sons admitted to me that they felt guilty. I found a number of reputable communities that accepted Medicaid. None of the options met with the children's approval, and they kept delaying the decision. Unfortunately, the senior's physical condition was deteriorating. I told them that the relative's status was critical, and they had to make a decision. The senior weighed less and became very frail. We need to be conscious that denying a loved one appropriate medical care is a form of abuse.
Last, delaying the decision may cause the children or caregivers further stress as discussed in this following real life story: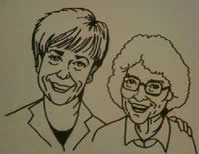 Real-Life Story
My client's mom was an 85-year-old woman with mid-stage Alzheimer's disease. When the daughter contacted me, she explained that her mom had been living with her for 30 years. The Mother was totally ambulatory and wandered from room to room at night. She rifled the drawers in different rooms and kept them awake at night. She had wandered into a busy intersection when she slipped out the back door. The family wasn't aware that she had eloped. The police found her and contacted the family. The daughter didn't want to move her because she felt guilty. Her mother had about $100,000 left before she would need to apply for Medicaid. However, when I discussed my consulting fee with the daughter, she balked and told me she would think about it. I hung up the phone feeling disappointed because my fees are very reasonable.
Several months later, the daughter called and said she had contacted one of my competitors, a free national service that accepts huge commissions from the communities where they place seniors. They had recommended that she move her mother to a very high-end assisted living community with a locked Alzheimer's unit. The community did not accept Medicaid, and her funds would have been exhausted in a year. As a result, the family would have to move her again, a recommendation that is very unfair to a person who has Alzheimer's. A move to unfamiliar surroundings can cause behavioral problems for the senior and unnecessary stress to the family.
The daughter stipulated that since her mom was ambulatory, she wanted her mom in a unit with residents similar to her mom. I placed her in a 20-bed, intermediate care special unit for Alzheimer's residents. At the time, it had no residents who were bound by wheelchairs. They also accepted Medicaid, which eliminated the need for a second move. The daughter was very satisfied with her mom's new residence.
Self Care for Caregivers
Taking care of an elderly family member is a challenge few people know how to prepare for. The success of this new facet of your relationship with your loved one depends largely upon how well you take care of yourself. It is critical for caregivers to practice good self-care.
It has been found that people who feel loved and well connected to their parents during childhood have less difficulty balancing their needs against those of their aging parents. By contrast, those with unstable childhood parental attachments often lose themselves in the process of care giving. They expect themselves to be perfect, or they revert to roles they thought they had outgrown. Rather than continuing longstanding family patterns or carrying the same load of hurt feelings, this new dynamic in your relationship is an opportunity to acknowledge past hurts and work to resolve old disappointments and wounds.
It's OK to not be the "perfect" caregiver; "good enough" is still good. It's better to do a little consistently than to exhaust yourself by doing more than you can handle. Sometimes caregivers sacrifice their relationships with their children or partners because of their obligation to their parents, but it's important to balance commitments and clarify limits. Be realistic about what you can get done. Recognize what you can and cannot accomplish, set your priorities and act accordingly. It may be helpful to tell yourself, "Do what you can, when you can. Say no when you must."
Care giving can often be more like a long-distance race than a sprint; if you don't plan ahead, the burden will feel great. Try to get siblings together regularly–in person, on the phone, through Skype or by email. These meetings can coordinate help so the burden doesn't land on just one person. Author Terry Hargrave recommends that the person who is doing the active caretaking should be in charge, with the rest of the siblings serving as the support team. List the tasks that need to be done; those far away might help with administrative tasks, financial support or advocacy, while those nearby can offer more hands-on care. Keep lines of communication open with family and friends, and address miscommunication and stress immediately.
Many people want to support their loved ones who are care giving. Many simply need an invitation, so don't be afraid to ask for help. Friends and neighbors may be willing to help with respite care, yard work, grocery shopping and other essential tasks. It's also a good idea to research resources in your area before you need them. Consider adult day care services, a meal delivery program, and a home health aide to help with feeding, bathing, dressing and giving medication.
Meanwhile, eat well, exercise, and do things that bring you joy on a regular basis. Stay involved in things that you're interested in. Make sure you're getting enough sleep. Many caregivers struggle with feelings of anger and guilt over that anger; it's important to find somewhere you can vent. A trusted friend, a support group, a therapist, or programs such as the free, church-based Stephen Ministry provide a safe place to air your feelings. Some people find online support groups or message boards helpful, where people share many of the same experiences and feelings and offer examples of what has helped them.
Focus on the small blessings–something good in each day that you can be grateful for. Your perspective and attitude makes a big difference in how you feel physically and emotionally. Maintaining a realistic yet positive perspective can be challenging, but it can be one of your most important acts of care giving.
Kara Zimmerman is a licensed marriage and family therapist in private practice at Lifetime Behavioral Health in West Chicago. Kara specializes in working with couples and those who care for others. You can read more about Kara's background at Lifetime Behavioral Health website. Or you can reach Kara directly at 630.306.2319.