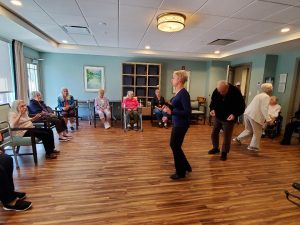 I was lucky enough to be engaged by Jocelyn Newhall of Arbor Terrace (Naperville) to teach a dance class to the residents in the Evergreen assisted living memory unit. I'm not sure who had more fun…the residents or I!
I conducted a one-hour class that was divided into short segments of ballet, tap, and jazz dance. I started each section with a short stretching exercise and warm up, followed by some brief steps that were set to some of their favorite music.
There were between fifteen to twenty enthusiastic residents who attended the class. Some were ambulatory but most of them participated in the class seated in chairs. Although they worked through the ballet exercises patiently, many of them were anxious to get on into the tap portion of the class. I had them doing shuffles and flaps, along with simple flap heels set to Frank Sinatra's, "New York, New York." When I turned the music on, most of them began to sing so loudly that you couldn't hear the recording. Several of the residents chose to leave their seats and improvise.