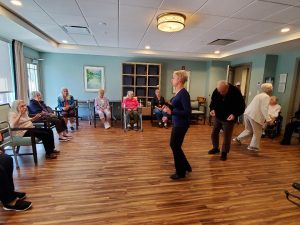 I was lucky enough to be engaged by Jocelyn Newhall of Arbor Terrace (Naperville) to teach a dance class to the residents in the Evergreen assisted living memory unit. I'm not sure who had more fun…the residents or I!
I conducted a one-hour class that was divided into short segments of ballet, tap, and jazz dance. I started each section with a short stretching exercise and warm up, followed by some brief steps that were set to some of their favorite music.
There were between fifteen to twenty enthusiastic residents who attended the class. Some were ambulatory but most of them participated in the class seated in chairs. Although they worked through the ballet exercises patiently, many of them were anxious to get on into the tap portion of the class. I had them doing shuffles and flaps, along with simple flap heels set to Frank Sinatra's, "New York, New York." When I turned the music on, most of them began to sing so loudly that you couldn't hear the recording. Several of the residents chose to leave their seats and improvise.
While we were resting, I took the opportunity to ask the residents about their past dance histories. Several of them remembered the names of the ballet steps, along with the names of their teachers and the location of the studios.
So what did I come away with from this experience? It allowed me to connect with the residents through something I love the most in my life…dance. When I do this again, I will need to break the lesson down into smaller, repetitive bites that the residents can more easily repeat and retain. They also seemed to enjoy participating in numbers that were more improvisational, rather than routines that were structured. It also allowed the residents to reminisce about how dancing had made them happy in the past. I noticed that some of the residents were quiet, reserved, and serious before the class began.  But as the class commenced, they socialized with one another, danced together, and became a lot happier
I ended the lesson by dancing to Bobby Darrin's, "Mack The Knife." By the time the lesson was complete, they were tired and ready to go to lunch. I applaud Jocelyn and Arbor Terrace for making a fun, artistic, and cognitively challenging activity available to their residents.
In regard to individuals living with Alzheimer's disease, dance/movement therapy has been effective in stimulating social interaction, enhancing mood, reducing anxiety and depressive symptoms, increasing self-awareness and self-expression.
Dance/movement therapy can even maintain and at times improve memory and cognitive functioning. The focus of communication is on non-verbal attunement and mindfulness, both of which become increasingly important as many dementias affect language and cognitive awareness.