My friends and prospective clients who have parents who aren't ready for senior housing placement often ask me questions about non-clinically licensed home health caregivers. The question I'm most often asked is, "Why can't I just hire the nice lady from across the street to take care of Mom/Dad? It is much cheaper." While I have seen that strategy work successfully for a lot of people, I do not make that recommendation to anyone.
If you are considering home health care for a loved one, the providing agency should be a member of the National Private Duty Association (NPDA). Without going into a lot of detail, agencies that are members of the NPDA in Illinois hold a license. They profess allegiance to a code of ethics. An NPDA-agency, in contrast to an independent contractor or staffing agency, is responsible among other things, for the screening, training, and background checks of staff members. If you choose to hire "the nice lady up the street," you will be assuming all the responsibilities of an employer and may have no recourse if something goes wrong. What may appear as savings in the short-term may have long-term repercussions, as exemplified in this month's real life story.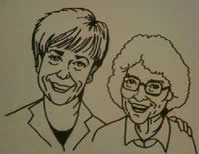 Real-Life Story
The client was a woman in her late 60's who was referred to me through a realtor. She had a diagnosis of a debilitating disease that required her to use a wheelchair, and she needed assistance with all of her activities of daily living (ADL); that is, eating, bathing, dressing, toileting, transferring, and walking. She needed total assistance from a sit to stand position, a feat that could be accomplished by one caregiver. She lived in her own home and was aided by two full-time caregivers. One caregiver assisted her from the late afternoon into the evening, and had earned a nursing degree at one point in time. Yet, she was no longer licensed. The other was an unlicensed caregiver who assisted the client from mid-morning until late afternoon. Thus, there was a gap in care each day from the late evening to the next morning. The caregiver who had nursing credentials was being paid three times the amount of the unlicensed caregiver. Both caregivers were employed by the senior for over ten years.
Several weeks before I was hired, an attempt was made to move the client to an assisted living community. She was supposedly admitted without an assessment. The facility couldn't handle her care adequately and it took several people to lift her. Due to her emotional attachment to the previous caregivers, she screamed every time the staff members tried to lift her or give her a shower.
When the children noticed that their mother's personal expenses were exceeding $12,000 a month and saw some dubious banking transactions, they decided it was time to move her into a long-term care community.
The client told the realtor and me that she would only move on three stipulations:
She would have to bring the two caregivers to the community where she moved. Note, this automatically disqualified a move to a skilled nursing community. I vehemently opposed a move to independent living with the two caregivers and tried to convince her that she would benefit from the care, lower cost ($8,000 vs $12,000), and the time gap in her care.
There had to be cooking equipment in the room.
She had distinct location preferences in order to accommodate the caregivers.
Each of these stipulations underscored the fact that my client was in deep denial about her need to enter a skilled nursing home. Reluctantly–because I knew from long experience that my client would likely end up in a skilled community anyway–I found two facilities that would accommodate her request to keep the two caregivers. My main stumbling block was the fact that they were unlicensed. The realtor and I agreed the best approach was to place her at a continuing care community that had assisted living and a nursing home on the campus, and pray she would see the light in needing the higher level of care. She selected one of the communities, and planned to move with the two caregivers.
On the day of the move, I found out the kids chose to move her to the skilled community (once again, my experience and instincts proved true). The caregiver without the nursing degree assisted with the move. The other remained at the house, but deluged the first caregiver with phone calls inquiring about when they were going to return. When the kids and the caregiver returned home, it had been emptied of all the furniture, including a huge pile of worthless junk in the basement. After the robbery was reported to the police, it was somehow determined that the caregiver, who never had a nursing degree, was operating under several alias names. It was also suspected that she was part of a band of gypsies who were responsible for a number of robberies in the area. Even my years of experience could not have prepared me for the twist in this case, which is why I entitled the article, "Who's Watching Your Mother?"
For all your loved one's senior living needs, please contact Andrea Donovan at (708) 442-7174 or email us. Please visit our website. Please Please watch to learn how the process works and learn what some clients have to say.

Andrea Donovan Senior Living Advisors
361 Nuttall Road Riverside, IL 60546 708-442-7174 708-415-2934 (cell)
andrea_donovansla@yahoo.com