"Be certain that a community's definition of "assisted living" meets your loved one's needs."
Greetings and best wishes for a wonderful summer! I've been blessed with a lot of assisted living and nursing home placements, completing my National Guardianship Certification, fishing, and playing some fun golf games, although at times my game is truthfully awful!
While there may or may not be much hope for my golf handicap these days, it is good to know that there is plenty of help available for making good senior placement decisions. However, when it comes to choosing the right assisted living community, please be very mindful of the community's definition of "assistance." According to the Assisted Living and Shared Housing Establishment Code in the State of Illinois, an assisted living community needs to fulfill three criteria:
There must be someone who is 16 years of age on the premises;
They must be able to meet the residents' emergency and non-emergency needs on a 24-hour basis;
The person must be trained in CPR.
This definition says nothing about assistance with activities of daily living (eating, bathing, dressing, transferring, toileting, walking). Nor does it mention the presence of Nurses or Certified Nurses' Assistants, or the set-up and dispensation of medication.
The business of senior living options has become extremely complicated. One size no longer fits all. Each of the communities is delivering extremely different levels of services that are priced differently. You will need to be scrupulous in asking exactly what services will be provided for your loved one. In some assisted living communities, the care is only a mere extension of independent living services with light housekeeping, meal preparation, and stand-by assistance with bathing and dressing. If you are dealing with a loved one who has the middle or later stages of Alzheimer's, you need to be certain that the community is offering the appropriate programming. Assistance with other health problems may result in placement in the facility's intermediate or skilled nursing sector. Other communities will be able to deal with residents needing additional help like getting in and out of bed, transferring from and occasional use of a wheelchair, and incontinence. You just need to know where they are. That's how I can help you!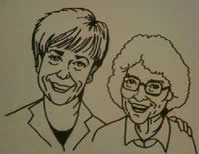 Real-Life Story
My client is the owner of a busy business in downtown Chicago. Her mother is 86 years old and currently receiving rehabilitation at a south suburban nursing home. The mother has a condition called Orthostatic Hypotension, which causes her blood pressure to drop after eating. She fell as a result. The mother had lived independently in a condominium. She was capable of performing all of her own activities of daily living including the use of Depends for incontinence and changing a bed pad if she had an accident at night (As much as I hate to use this problem as an example, it is a very real issue). The nursing home rehabilitation had restored her to most of her capabilities, except they were changing a cloth diaper if she had an accident at night.
The daughter hired me to research and identify an appropriate assisted living community. However, I had to fulfill several requirements. The community had to be located in the western or southwestern suburbs. It needed to be a continuing care community where the senior could stay for the rest of her life. (This client has $150,000 in savings, a condo worth about $100,000 that needs to be sold, and $1,300 in Social Security). The community had to be able to deal with the current and future incontinence problems.
I confirmed my suspicions from past research by speaking with several of the admissions directors on the incontinence issues. I received the following answers:
One admissions director commented that changing a diaper at night was a "skilled service" that would disqualify the senior from the assisted living area. She would be welcome to move to their skilled area.
Another community's representative said that they would place a commode next to her bed and she would have to toilet herself. They could deal with an occasional accident at night.
Several communities offered assistance by either waking her up at night to use the bathroom and/or assisting her with a diaper change at night. These communities charged additional money to perform the services that ranged anywhere from $600 to $1,200 per month depending upon what they would do for her.
I have narrowed the search to three communities that can accommodate senior's needs. I've reviewed her financial situation with each community and have been assured she can remain for life because they offer Medicaid or a benevolence fund. A second set of tours has been conducted with the finalists. Now, instead of being in a tough predicament, my client and her mother have several carefully researched and clearly viable options from which to choose. And THAT in itself is a far better "place" to be.