Over half of my clients are children of seniors who are already living in a community. The children are looking to move them because the senior needs a higher level of care or they are dissatisfied with the care the senior is receiving. But the most common reason clients contact me for my services is the senior is depleting his or her finances and cannot stay at the current community.
Most senior housing placements occur as the result of a crisis in the senior's health. The unfortunate reality is that people don't plan for this sort of crisis. The immediate reaction is to put a bandage on the problem to solve it short term without examining the senior's long term financial realities. People often choose a community because it has name recognition or "it looks like a really nice place." Yet, when people are in a rush, they fail to ask common sense questions such as "Does your community accept Medicare or Medicaid?" Or, "What happens when my mother or father runs out of money?"
We are now living in a society where people are living longer. We need to take that fact into account when searching for the right senior living alternative whether it be home care or community living. We plan for disasters and accidents by purchasing insurance. Many of us have pre-planned our funerals. Why not take some time to think about what will happen if your loved one needs to enter a community and outlives his or her finances? This month's real-life story will supply you with some food for thought.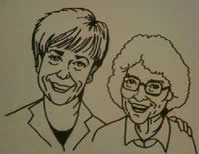 Real-Life Story
My client is the daughter of a 91-year-old woman. She was living in a very high-end assisted living unit with a memory care "neighborhood." It is part of a continuing care community that offers three levels of care: independent, assisted, and skilled nursing. Each of the 32 residents occupied a spacious private apartment and participated in structured activities that included programming for early to mid-stage Alzheimer's disease. The senior was fairly high functioning and able to assist with cooking and baking for the neighborhood. The community is one of the most aesthetically attractive that I've seen and carries a price of more than $6,700 per month. This community doesn't accept Medicare or Medicaid.
The senior fell and broke her hip while she was in her room. A caregiver was present when the accident happened. First, the senior was sent to the hospital. Then, she was transferred to another high-end community for rehabilitation because her current community didn't accept Medicare. When she reached a plateau with her rehabilitation, she was released back to her old community. However, the daughter was informed that her mom couldn't return to assisted living. Because she couldn't function there, her mom was admitted to the newly re-furbished skilled nursing area in the community. The price was more than $9,000 per month.
The daughter initially hired me to find another skilled nursing community that accepts Medicaid. Her mother was receiving $2,400 a month in Social Security and pensions and had about $65,000 left in her savings. The daughter was only concerned with finding a high-quality nursing home that had pleasant aesthetics and accepted Medicaid in the future. I told the daughter it would be tough because the aesthetics would be impossible to match. Any place would be a step down from an appearance standpoint. Many of the higher quality nursing homes in her preferred area were requiring at least one year of private pay (some two). Those requiring less were full, with waiting lists of one year or more. Because I have evaluated over 250 senior communities, I was able to find several skilled communities that fit her qualifications.
The story doesn't end there. My client's mom has progressed well and has been released back to her old room in assisted living. Although the assisted living area is less money, she will still run out of funds in a year. To solve the problem, I found a continuing care community with an assisted living memory care unit that is less expensive than what they are currently paying. There is a skilled nursing community where she could be transferred if her condition worsens, and that community accepts Medicaid. The community is willing to work with us on the finances, and she would not be asked to leave if her funds were depleted.
So just think, this poor lady has been transferred to three different places in a matter of six weeks. Now we face a potential move to another community. The circumstances are very difficult on a person with Alzheimer's because of the change in surroundings, not to mention another move will be hard on the family. Please remember to do some long-range planning up front, or I can do it for you.