Happy Holidays! My very best wishes to you and your loved ones for a blessed and prosperous new year.
The holidays are a time to celebrate with family and friends. It is also a time when families might observe that their loved ones' health is declining. With these observations comes the stress of thinking ahead to the future. And the one thing folks might begin thinking about is choosing the right long-term care community or home care option for a loved one. There is also added concern about how the loved ones' care will be financed. Here is a snapshot of the types of long-term care options available and their approximate costs:
Independent Living Communities – The senior can function on his or her own, but may receive help with housekeeping and meals. The cost runs about $1,500 to $3,000 per month, depending upon the community.
Assisted Living – The senior needs help with some of his or her activities of daily living (ADLs). This includes help with bathing, dressing, toileting, transferring, eating, escorting and assistance with medications. The estimated cost is $3,800 – $6,000 per month. It is not "hands-on" care; it is "standby" assistance.
Intermediate Care – The loved one needs 24-hour supervision but may be able to perform some activities of daily living. Assistance can be a combination of "standby" and "hands-on." The estimated cost is $5,000 – $6,000 per month.
Nursing Home Skilled Care – The senior needs 24-hour supervision and "hands-on" care with activities of daily living. The person usually has a health concern like a feeding tube or tracheotomy that requires 24-hour "hands-on" care. The cost is $6,000 – $8,000 a month. The special care Alzheimer's units may cost $9,000 or more.
Home Health (Non-medical services, licensed) – The prices run approximately $190 per day for a live-in companion to $225 per day or more for a live-in providing personal care. Services are also available on an hourly basis.
"The cost of a loved one's long-term care may be reduced by the VA Aid and Attendance benefit for wartime veterans."
The costs of the above types of care can be exorbitant. Aside from the typical ways of paying for long-term care (private pay, long-term care insurance, Medicare, Medicaid; some of which may not apply to all of the above), there is a little known benefit provided by Department of Veterans Affairs. It is called the VA Aid and Attendance benefit. It can provide up to $1,056 to $1,949 per month to the Veteran and/or his or her surviving spouse if they qualify. Basic qualifications for the Veteran include:
Served at least one day during the War Time period
Served 90 consecutive days on active duty
Received a discharge other than dishonorable
Limited income and assets
Permanent and total disability
Disability caused without willful misconduct
Over age 65
Assistance may be available whether at home, in assisted living, or in a nursing home. There are specialists authorized to provide Veterans with assistance in filing a claim and interpreting the benefit. Please call me for details.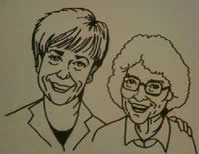 Real-Life Story
I recently worked with a family whose Dad contracted an infection in his foot. The infection lead to further complications coupled with the fact that he had mid-stage Alzheimer's disease. He was using his Medicare days in a nursing home. His wife was very dissatisfied with the care he was receiving. When the family realized he probably wasn't going to be able to return home, they hired me to find a better nursing home for him on a permanent basis.
His wife was in her 80's and still working part-time. Monthly income was limited. When I sat down with the family to tell them the cost of his nursing home care would be in excess of $6,000 a month, tears began to flow from her eyes. Thank goodness this was a wonderful family. They insisted upon the best care for their father. The kids offered to chip in and pay for the best place possible. I suggested that they look into the VA Aid and Attendance benefit because their Dad was a World War II Veteran. Although the benefit isn't huge, it lifted some of the financial burden from the kids, thus alleviating some personal and work-related stress.
Employers Can Prepare Employee Caregivers to Benefit Aging Parents and the Workplace
by Ardena L. Flippin, MD
It is said that the next decade will be the "eldercare decade." More and more baby boomers are assuming the task of caring for elderly parents or loved ones because improved medical care and preventive medicine have increased life expectancy, and aging parents are living well into their 80's and 90's with conditions that require greater amounts of care. The challenge for both employers and employee caregivers is how to keep the work-life balance of eldercare from affecting workplace productivity.
Surprisingly, a future trend in care giving is that a significant number of men will be working caregivers to a parent or loved one. Lost productivity occurs from unscheduled absences, partial absenteeism (arriving late or leaving early), unpaid leaves of absence (LOA) and using up personal or sick days to provide family care and the premature turnover of a seasoned employee who retires early to care for aging parents.
Employer solutions can be low-cost such as education (handouts, resource materials or workplace seminars). Mid-cost solutions may be work-from-home options or flexible schedules, and higher-cost solutions involve employee benefit packages with alternative benefits such as eldercare, long-term care insurance, one-on-one counseling and advanced financial planning.
The author, Ardena L. Flippin, MD, is currently in collaboration with Andrea Donovan, SLA, in publishing the eBook, Crash Cart for Eldercare: How to Lessen the Impact of an Eldercare Emergency. The book may be purchased at www.flippinonhealth.com.