I often have seniors and their families hire me to find the right community because the senior is lonely and wants to socialize with people his/her own age. The feeling of being isolated and depressed while eating alone is often a major cause for concern. While I empathize with such concerns, I always encourage the senior to sample the food and the "communal dining experience" before signing on the dotted line at a new home. The senior could be eating one to three meals a day at the community depending on the level of care and type of dining program offered. If a senior could be spending up to 30% of his or her time eating, the food better be good. Couple that with table mates who have personality clashes and you could be headed into a situation that spoils the whole retirement experience.
Most of the time, admissions directors are more than happy to have a prospective resident and his or her family members sample the food. However, I recommend that the sampling be conducted during an ordinary meal, rather than during a special event. The food at an event won't be reflective of a meal that is typically served. I also recommend that the senior be seated with some of the residents during the sample meal. That way, s/he will always get truthful opinions of what the food is really like on a daily basis. It also allows the senior to sample the social setting and resident personalities. Some communities have unassigned seating. Others will purposely mix the residents to prevent cliques from forming at meal time.
Please be advised that independent living and assisted communities may not have a dietician on staff. Many of them note "heart healthy" and sugar free foods on their menus. Then, it's up to the senior to behave. If your loved one needs a special diet like pureed or mechanical, ask if that can be accommodated. I have even arranged for my nursing home clients who are lucid and contemplating a change in nursing homes to travel to the proposed new home via Medicar to take a tour and sample the food.
I have seen assisted living communities that offer up to 28 entrees for the senior to choose from, in contrast to those that offer one entree with a list of substitutes. If your loved one is a vegetarian, be certain that the idea of "vegetarian" isn't simply removing the meat or fish from the plate and leaving the vegetables. I have identified communities that have chefs who offer vegetarian creations as choices. Buffet and restaurant styles of serving vary at each community. Some of the communities that specialize in dementia care physically bring the choices to the table and let the resident choose, as a verbal description of the choices may mean nothing to them. During my site visits and assessments, I have collected copies of the menus and taken note of the manner in which the food is served. This information is a lot more important in the decision process than people think, as exemplified in the following real life story.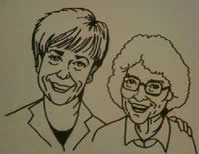 Real-Life Story
My client is a baby boomer who lives in Florida. Her father had a stroke and was engaging in physical therapy in a rehabilitation community. She hired me to find an assisted living community for him upon his release from therapy. I had a telephone conversation with her that identified his medical needs, financial capabilities and location preferences. I found four communities that fit her needs and we spent the next 2 days taking tours.
We narrowed the search to 2 final candidates. We looked at the menus each community had to offer. The finalists were 2 communities of like kind and quality, located within 5 miles of one another, and were comparably priced. We reviewed the menus of each and here is what each had to offer for Sunday dinner:
Community One
Country vegetable soup Macaroni and cheese Spiced apple rings Peaches
Substitute:
Bologna sandwich
Community Two
Soup:
Manhattan clam chowder Vegetable rice soup V-8 juice
Entree:
Quiche Lorraine Crab cakes with dill sauce Beef Sukiyaki
Sides:
Baked potato Brown rice Sauteed mushrooms
Dessert:
Fresh baked cookies Tiramisu torte Sugar free chocolate pudding
Now, if it were my choice, I would select the menu at community number two. However, my client surprised me and said, "Andrea, my dad would be intimidated by the food offered at the second community!" So guess which place she chose? Either way, I was happy to have been of service. Keep in mind, I've toured over 250 communities and have a menu for each one. I'm bound to connect your loved one with the right senior community and keep his or her taste buds happy!