"When choosing a long-term care community for your loved one, make sure his/her care-level needs and financial realities are appropriately assessed."
Greetings!
As part of my services, I always meet and get to know the person I'm about to place. My past experience as an admissions director of a continuing care community (one offering Independent living, assisted living, and a nursing home on a single campus) taught me how to assess an individual's mobility and cognitive impairment (if any). An assessment also affords me the opportunity to meet family members, see the person's current living conditions, and find out the person's financial realities. All of these factors play an important part in the options I present to my clients. As families who "go it alone" and clients of other service providers have sometimes discovered too late, a mistake in assessing any one of these factors can result in misplacement of a client. This, in turn, can lead to a rapid decline in a senior's well-being, more serious adversities, and even yet another move – a heartache and inconvenience that no resident or family should ever have to endure. This month's real life story emphasizes that fact.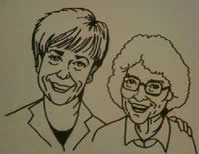 Real-Life Story
My client is a 72-year old woman who has Parkinson's disease. When she engaged my services, she was at a nursing home receiving therapy under Medicare due to a fall. Prior to the fall, she was living in a high-end independent living community.
Here are the circumstances that led up to her needing my services. She had been living with her brother for years. After the Parkinson's progressed, he said she demanded too much care with her bathing and dressing. She then lived with her sister for several months and the situation didn't work out. They insisted that she move out in a rush. She searched for a retirement home, used one of the free referral services for senior housing,* and moved to the independent living area of a community that was way beyond her financial means ($3,000 per month).
The management of the community had assessed her and approved the move. She had money to live there for a little longer than one year, assuming no other financial crisis that demanded use of her money. Note, this community also had an assisted living area where she MAY have been more appropriately placed.
She fell not only once but twice. One of the falls took place during the actual move into the apartment. There were days that she had to call the community front desk and ask to be brought to the dining room in a wheel chair. After the second fall, she was told she couldn't return to her apartment without a 24 hour caregiver, a cost that can exceed $200 per day. Under this plan, she incurred a bill of $7,000. There were other expenses besides the hefty rent and the homecare expenses, too numerous to list here. For example, one category included several ambulance trips costing over $1,000 each way. After a disastrous 4 months, when she finally hired me, she was down to her last $12,000.
I assessed her during her physical therapy and performance of her activities of daily living. Although she pleaded with me to place her in assisted living, in all practical reality she was, at best, a candidate for intermediate nursing care at a community that accepted public aid pending. As painful experience had already shown before my arrival on the case, a less supportive environment would be unsafe. She could not remain at her current community because they were a rehabilitation community and had no public aid beds available.
I recommended placement at a reputable community in her old neighborhood that received an excellent score on its inspection from the Illinois Department of Public Health. The community also accepted her public aid pending status. I arranged to have a Medicar bring her to the facility where we had a tour along with her other family members. The management offered us lunch, which gave her an opportunity to sample the food, a suggestion I always make to my clients.
Here is my opinion of this case. Parkinson's disease is progressive. The person's condition almost never gets better; it only gets worse. While no one has a crystal ball, this resident was probably never a candidate for independent living. A thorough analysis of her future medical needs and financial realities was not completed before the original, ill-advised move. Had I handled this case from the outset, I would have started her out in assisted living in a community that could accommodate her current and anticipated medical needs and that is Medicaid friendly.
Does such a place exist? Yes, and some of these places operate on a month-to-month basis and don't require an entrance fee. You just need to know where they are. That's where I can help.
* The free referral services contract with and are paid a commission by the communities to steer seniors into them. I'm paid a fee by the client to find the right option for a senior loved one.